Hi all,
The wordpress database backup manually without using wordpress plugin is very simple, easy to undestand and useful to web developers. Do you want know how to develope or making this operation? .




Knowing the manual method allows you to quickly create a database backup whenever you need it. In here, show you how to make a WordPress database backup manually without using any plugins.
Why Is Backing up WordPress Important?
Before moving to wordpress database backup manually first discuss why wordpress backup is important.




Backing up your website allows you to retrieve a working version if something goes wrong or something is done that breaks it.
Several things can break a website:an external attack, a server crash, an error happening during an update, or even human error.
This is actually independent of your choice of using WordPress – whatever your website is built with, you should always have regular backups.
In fact, if a problem occurs, with backups, you can restore the altered files and data. Depending on how often you back up, you can even retrieve your whole website, without losing anything.
Backing Up WordPress Database Manually Using phpMyAdmin
The phpMyAdmin helps to manipulate your database. The standard wordpress database contain 11 tables. And you can notice that, all of the wordpress database table contain wp_ prefix. The wordpress database tables are:
wp_commentmeta
wp_comments
wp_links
wp_usermeta
wp__users
Step 1: Once logged in to phpMyAdmin, select the WordPress database by clicking on it
Step 2: Once your database is selected, click on Export link from the top menu bar.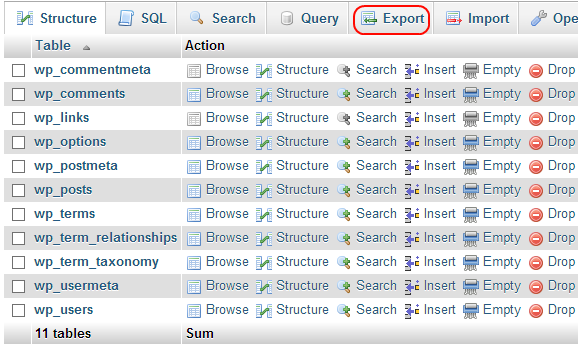 Step 3: From the Export options page, select Custom Export and ensure that:
All tables are highlighted, as seen in the below screenshot
The option Add Drop…. from the Object Creation options is enabled. This is useful for when you are restoring the WordPress database onto an existing one.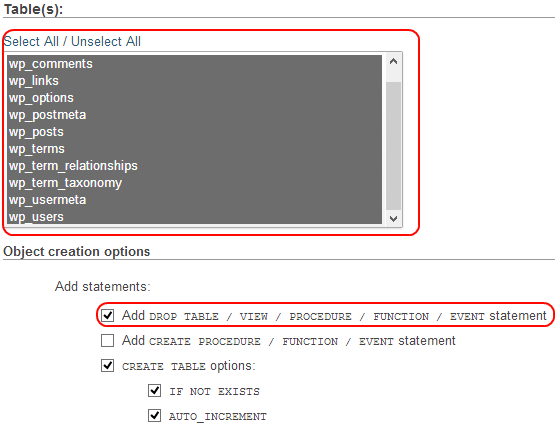 Backup your WordPress database from CPanel
Step1: Login to your hosting provider CPanel and click on the Backup icon in the Files section.
Step2: Once in the backup options page, click on the WordPress database name listed under the section 'Download a MySQL Database backup'.
Step3: Once you click on the WordPress database name, a compressed SQL script file is automatically downloaded to your computer.
If anyone has doubts on this topic then please do let me know by leaving comments or send me an email.